Friable Diamond
Each Particle is with sub-crystal structure. Irregular and Very rough surface. New cutting edges come out during working.
Also available in electroless plating of both nickel (30% and 56% by wt.) and copper (50% by wt.) allowing for better crystal retention in both phenolic and polyimide bond systems.
Application:
For Resin Bond system
Application: grinding tungsten carbide, ceramics, glass, and other non-metal materials.
Resin Bond Mesh Diamond: EA-R15
Rough and very irregular, Highest Friable, Yellow Green Color
Best self-sharpening performance and high thermal stability, suitable for creep grinding, the good choice for high precision grinding where premium surface finish and form remaining are demanded.
Available sizes:60/80 through 400/500
Resin Bond Mesh Diamond: EA-R02
Irregular, medium Friable, balck Color
Economical, desgined for general purpose
Available sizes:60/80 through 400/500
Resin Bond Mesh Diamond: EA-R21
Irregular, low Friable, light Green Color
Similar to EA-R23
Available sizes:60/80 through 400/500
Resin Bond Mesh Diamond: ED-B100
Semi-blocky, very low friability, Black
Premium performance in thermal stability
For Vit bond system with good profile retention and sharpness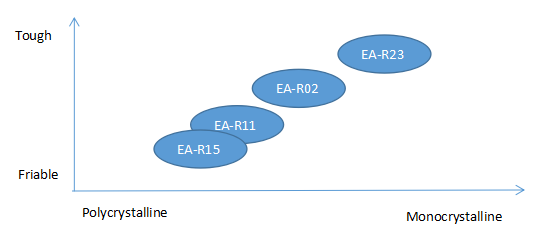 Available sizes:
| | | | | | | | | | | | |
| --- | --- | --- | --- | --- | --- | --- | --- | --- | --- | --- | --- |
| ANSI | 60/80 | 80/100 | 100/120 | 120/140 | 140/170 | 170/200 | 200/230 | 230/270 | 270/325 | 325/400 | 400/500 |
| FEPA | D252 | D181 | D151 | D126 | D107 | D91 | D76 | D64 | D54 | D46 | D32 |
| EA-R23 | * | * | * | * | * | * | * | * | * | * | * |
| EA-R11 | * | * | * | * | * | * | * | * | * | * | * |
| EA-R15 | * | * | * | * | * | * | * | * | * | * | * |
| EA-R02 | * | * | * | * | * | * | * | * | * | * | * |
| | | | | | | | | | | | |